Shrimpies
You may be looking for Shrimpy (Shrimp).

Shrimpy

A young finless shrimp.Before it grows.

Gender

Varies

Age

Varies

Species

Shrimp
 Shrimpies are small creatures resembling erasers that have been drawn on.  They live in a magical land under the sea named Shrimpyland.
Shrimp Lives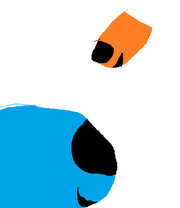 Shrimps are born at Shrimp Groves and Nurseries. Baby Shrimps cannot do much. The Adults care for young and get agressive, sometimes attacking other shrimps. A Young Shrimp can Fight. Now the Adult is here and the Shrimp can get a job now. Adults can also fish for copepods.